Best sellers
Regular price
$19.99
$27.99
Regular price
$20.99
$28.99
Regular price
$14.99
$19.99
Filter
Phyhoo High Accuracy Jeweler Diamond Tester
QUESTIONS & ANSWERS
Ask More Wholesale Prices. (100QTY+)
Be the first to ask a question about this.
Ask Questions
Do you like jewelry very much? But you are worried about how to identify the authenticity of jewelry.
Diamond Selector II diamond tester is an electronic instrument designed and manufactured according to the thermal conductivity of diamonds to identify the true and false diamonds. It can also be used for testing sapphire, ruby, crystal, agate and other stones.
Features:
Fast And Precise: This gemstone tester pen is designed to detect if a diamond or gemstone is real or fake, Diamond Selector II will indicate genuine diamond or fake in seconds.

Simple to Use: Diamond Tester Pen is simple to operate to get results. Real Diamond will emit sounds and lights >=9. It is designed for quick, precise, and safe diamond testing.

Portable: Portable electronic device for distinguishing real diamonds from other simulated stones. LCD displays & LED indicators. Uses switches for testing diamonds, Emits audible sounds to easily differentiate the readings.

NOTICE: * When testing, the probe needle and the tested object must be at a 90° angle. * When testing diamond, your right index finger must keep touching the metal panel on the back of the tester, while you do not touch the panel if you test other gemstones. * Do Not test any metal. * Don't wear gloves.
Operation Methods:
Step 1:Put the 9V battery in. (not included). Take off the probe cap.
Step 2: Turn on the switch, the power indicator is on.Wait few seconds for the probe to heat up until another indicator is lighting up.
Step 3: If you test diamond, you then need to turn on the number of lights corresponding to the indoor temperature and diamond weight.
Step 4: If you test other gems, you'd better calibrate the probe before testing, Method: by placing the probe vertically on a piece of glass, then adjusting the light to 5, and then placing the probe on the gemstone to test.
Test Result Analysis:
If lights >= 9 and have sounds, it is true diamond.
If lights < 9 and no sounds, it is not diamond.
If lights is 7 or 8, it is true crystal.
If lights is 6 or 7, it is true jade.
If lights is 4 or 5, it is glass.
Don't test metal,Don't wear gloves.
Specifications:

Color: Black

Power supply: 1 * DC006P 9V Battery(not included)

Item size: 16 * 4 * 2cm (6.6 * 1.6 * 0.8in)

Item weight: 62g / 2.2oz

Package size: 18.5 * 5.6 * 3.5cm (7.3 * 2.2 * 1.4in)

Package weight: 157g / 5.5oz
Package including(9V battery not included):
1 * Diamond Selector II

1 * Carrying Case

1 * User Manual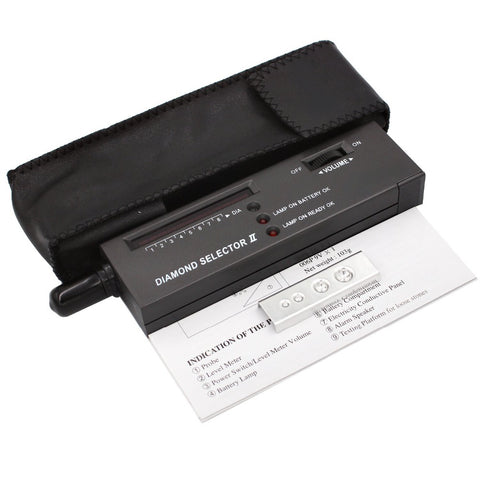 Shipping cost is charged by the shipping agency according to the destination, the weight and the shipping method.
Delivery time depends on the destination and the shipping method you choose. Phyhoo offers the following shipping methods to ensure the safe delivery of your package
FedEx, DHL and UPS are the fastest delivery methods available. Delivery time is 3 ~ 7 days to all major destinations. Products weighing more than or equal to 2KG will be shipped by FedEx, DHL and UPS by default.

According to your shopping cart, the system will automatically choose the most economical way for you from DHL, UPS and FedEx.


EMS will take 7~21 working days to arrive. Products weighing less than 2K can choose this shipping method.
Orders are processed and delivered Monday-Saturday (excluding public holidays)
Tip: Phyhoo is not responsible for the shipping delay that caused by the severe weather, such as stormy snow or other causes that beyond our control.
We are proud to guarantee 100% satisfaction with all items you purchased on phyhootool.com. If there is any dissatisfaction with your purchase for any reason, full refunding, Unconditional Return and 100% Exchange could be accepted within 30 days from the date of delivery.